Score Sheet
Scoring at the end of each game can be a bit tricky in Mahjong, as you don't just win points, you gain and lose them based on the difference in values between your and each other players' hands. In addition, different rulesets apply different rounding of scores.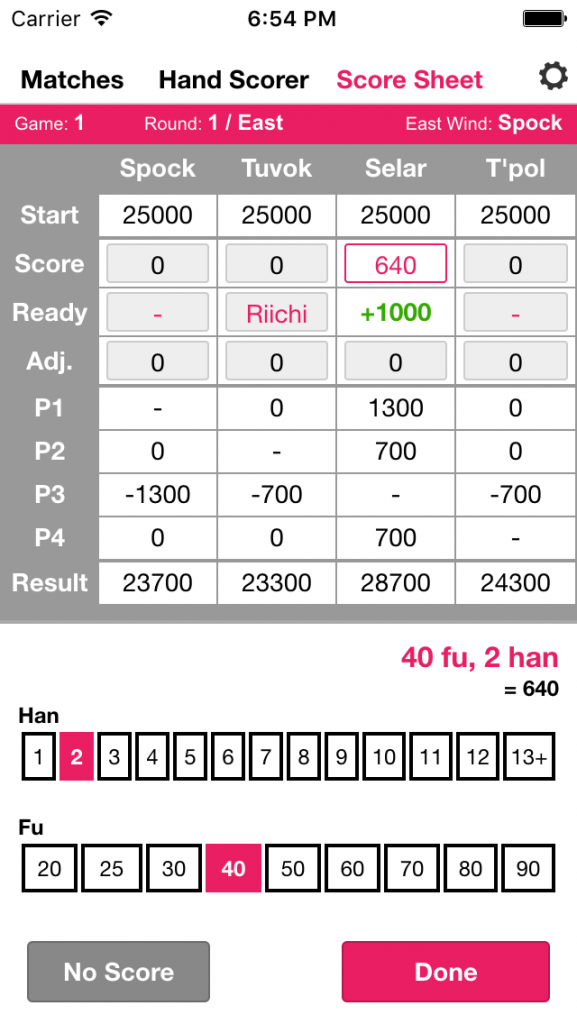 The Score Sheet panel lets you manually enter in the score of each player – just tap on the boxes to bring up a number pad. Note that you can also pass a score from the Hand Scorer panel.
As each score is changed, the cross-table below will update to reflect how points are gained/lost between players, and the onging total displayed.
If playing Japanese Mahjong, a "Ready" row also appears, which lets you define if a player declared Riichi, or – in the case of an Exhaustive Draw – if they were Ready (Tempai). The app will calculate Riichi payments (1000 points) and also counters (100 point increments) automatically based on this information.
An "Adjustment" row is also provided, in case you need to impose penalties on players and distribute their points to others.
It is important to define the winner of each game. The first score entered on the sheet will be assumed to be for the winner, but you can change this manually by using the pick-list below the grid. If applicable, you will also be given the option of choosing who discarded the winning tile (as this will affect how scores are determined)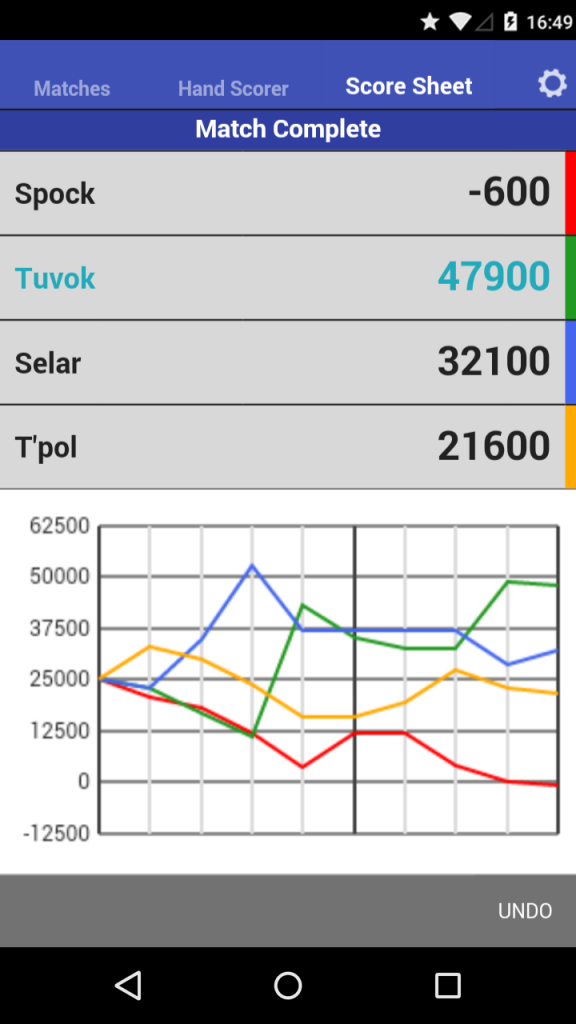 When you have entered all the scores and are ready to start the next game, press the "Finalize" button to finalize the game and start the next one (or end the match, if that was the last game).
You can swipe left/right to view previous/next games, or press the "back" and "forward" buttons on to jump to the start or end. You can adjust numbers if needed, but you won't be able to change the winner or discarder. You can also delete the most recent game using the button at the bottom.
The "Summary" button will display a match summary with a graph representing how the scores have changed throughout the match.
This same panel is displayed when a match is complete, but you can swipe left to view the individual games.